1985 25th ANNIVERSARY
This was the first of our five year reunions and had an excellent turn out. It also had a surprise for those of us who had not waited to graduate for one reason or another.(Marriage, joined service, etc.) Below is the Reunion Group Picture and some photos of the various activities. As can be seen by the last group of photos, we found it hard to end the evenings at the end of the activities for that day. Impromptu parties continued in various hotel rooms until the early morning hours.
Photos on this page courtesy of Doug Smith and Jerry Smith. Thanks to Helen Anne Parrish, Jerry Smith, Nancy Domjanovich, Holley (Robinson) Izard, John Fred Jumper, George and Judy Hanson for identifications. Help would be welcomed for those unidentified. Any mistakes are mine. BILL
LAST UPDATED 11/28/2004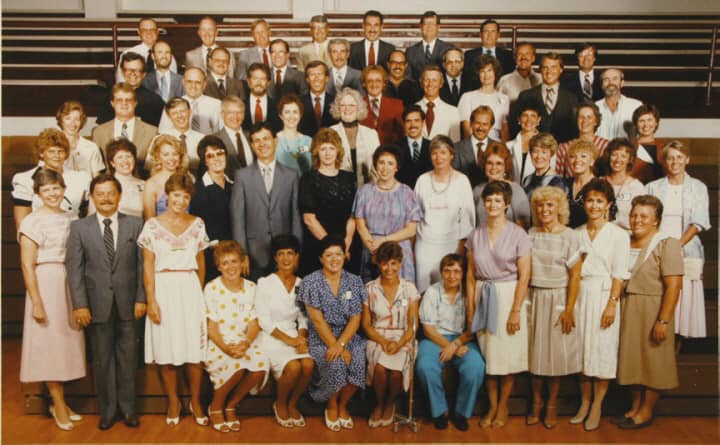 Front Row:
Mary Ellen Alletag Davenport, John Fred Jumper, Janet Baber Blankenship, Michelle Handley Barden, Carolyn Trimble Nickell, Jean Vail Coleman, Ann White Truscott, Linda Hensley, Sharon Gregg Cox, Linda Carriger Starkey, Sandy Smith Wilson, Jan Deering Hudson
Second Row:
Glenna Walker Faust, Jean Cleere James, Anna Lee Smith Michaud, Betty Bottoms Brown, Bill Dillon, Sue Laxton Sliger, Ann Walkere Holman, Nancy Wadlington Spears, Zuda Wright Russell, Judy Timmons Hanson, Nancy Dveney Pendergraft, Sherri Jackson Knight, Nancy Domjanovich
Third Row:
Helen Anne Parrish, Charles Mayhue, Raymond Phillips, Joe Knickmeyer, Holley Robinson Izard, Carolyn Morris, Ben Sleigh, Dick Wilson, Julia Chapman, Glenda Morrison Spencer, Beth McCord Hill
Fourth Row:
Mike Chapman, Isaac Blevins, Jerry Smith, Lanny Cranford, Richard Spencer(?), Dell Howry, Sidney Sudberry Greathouse, Bob McCurley, Doug Smith
Fifth Row:
Ted McNeilsmith, Stuart Gluckman, Forrest
Goodell, Don Folger, Bill Myrick, LeDon McAnally, Richard Guinn, Darrell Briscoe
Sixth Row:
Glenn Walker, Richard Thompson, George Hanson, Larry Stallings(?), James Hensler, Gary Reed, John Paul Thrash
A lot of work went into the preparation for this reunion. Cudos to everyone involved in the planning and implementation. Below Charlie and Helen Anne work on the storyboard that was displayed at the orientation at the Old Ada Public Library on Friday(?). Helen Anne worked many hours preparing this and it brought back many meories to all of us.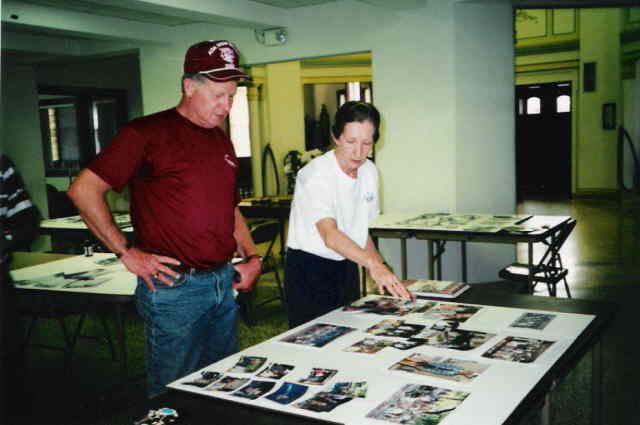 RECEPTION AT GARY REED'S HOME
JUNIOR HIGH RECEPTION WITH TEACHERS
PICNIC AT Byrd's Mill
AFTER HOURS VISITING
RETURN TO
1980
GO TO
1990
OTHER REUNIONS NAVIGATION
1968
1995
2000
2002
2004
ATTITUDE ADJUSTMENTS
SITE NAVIGATION
HOME
CLASS OFFICERS
CLASS PHOTOS
MEMORIES
REUNIONS
GUEST BOOK
NOTES